UPDATE 07/07/2016 11:00AM: The Arkansas Secretary of State's office has validated 77,516 signatures. The Arkansas Medical Cannabis Act will be on the November 8th 2016 ballot. (Read the initiative here.)
On Monday, June 24, Arkansans for Compassionate Care (ACC) submitted 117,469 signatures—nearly double the required 67,887 to qualify medical cannabis for November's ballot.
The initiative, the Arkansas Medical Cannabis Act of 2016 (AMCA) would legalize full spectrum medical cannabis by a doctor's recommendation for patients with 56 qualifying conditions, including Alzheimer's, autism, cancer, autoimmune disorders like Crohn's Disease, MS and fibromyalgia, as well as post-traumatic stress disorder (PTSD). The measure includes personal at-home cultivation of no more than 5 flowering and 5 non-flowering plants.
Arkansans have been ready for medical cannabis for a long time; unfortunately their legislators have not. A 2015 poll found a full 84 percent of Arkansans support medical cannabis, despite their representatives failing to bring forward ainitiative to permit it in the state.
However, this is not the first time medical cannabis has been on the ballot. A similar initiative was first run in 2012, and failed by a margin of about 3 percent. ACC attempted to put a similar initiative to voters in 2014 but it failed to qualify for the ballot. Many other citizen-driven initiatives have been rejected by the state.
If passed, Arkansas would officially become one of the first southern states with such a program. There are similar measures in Florida and Missouri that are both polling favorably and are likely to pass.
Despite the harsh rhetoric on medical cannabis coming out of Arkansas for years, even some of the staunchest opponents have changed their positions.
Even Good Ol' Asa Has Come Around On Cannabis
Arkansas Governor Asa Hutchinson served as chief administrator of the DEA from 2001-2003 and oversaw the prosecution of cannabis cultivation author Ed Rosenthal.
Rosenthal was arrested as the "kingpin" of medical cannabis operations licensed by the cities of San Francisco and Oakland after the passage of California's Proposition 215, the first such laws in the nation. His home and office were raided alongside legal Bay Area dispensaries. Hutchinson hoped to use Rosenthal as an example, but via the court of public opinion and jury nullification, he was famously sentenced to one day in prison with credit for time served.
"There are over 10,000 scientific studies that prove marijuana is a harmful addictive drug. There is not one reliable study that demonstrates marijuana has any medical value," Hutchinson said via the DEA website in 2002
However, in 2011, Hutchinson stated his support for medical cannabis at a debate at the University of Arkansas, saying,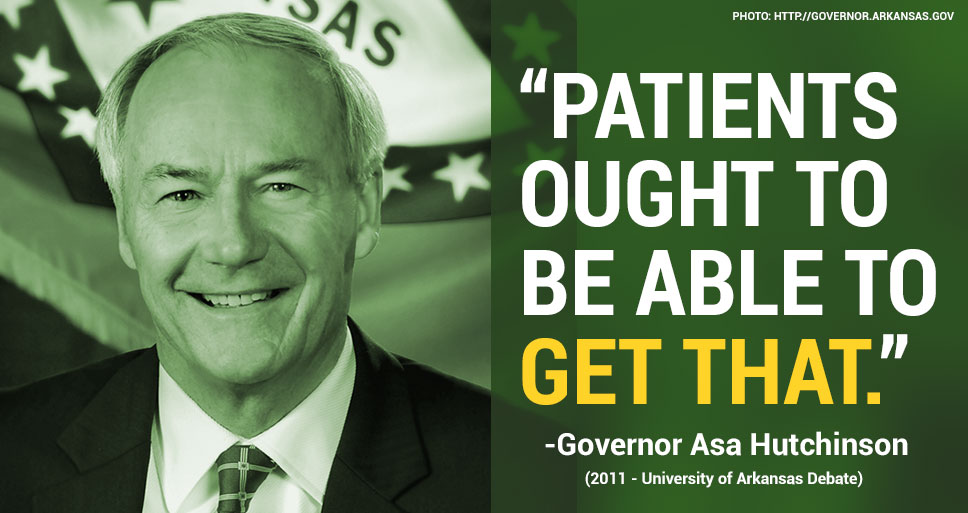 "I think if there is a medical need and doctors say you need a particular substance—whether it is Marinol or marijuana or whatever—then the patients ought to be able to get that." -Arkansas Governor Asa Hutchinson (2011 – University of Arkansas Debate)
Current Opposition Is Full of Mistruths and Misinformation
Although this time around the AMCA's proponents outweigh the opposition, there is still pushback from conservative organizations. The opposition is being led by Jerry Cox and the Family Council Action Committee (FCAC), a Little Rock-based conservative "education and research organization" that promotes conservative legislation.
Cox has indicated that the FCAC is prepared to fight the AMCA and any other medical cannabis proposal put in front of voters or state legislators. You can read more about Jerry and his fight against cannabis here.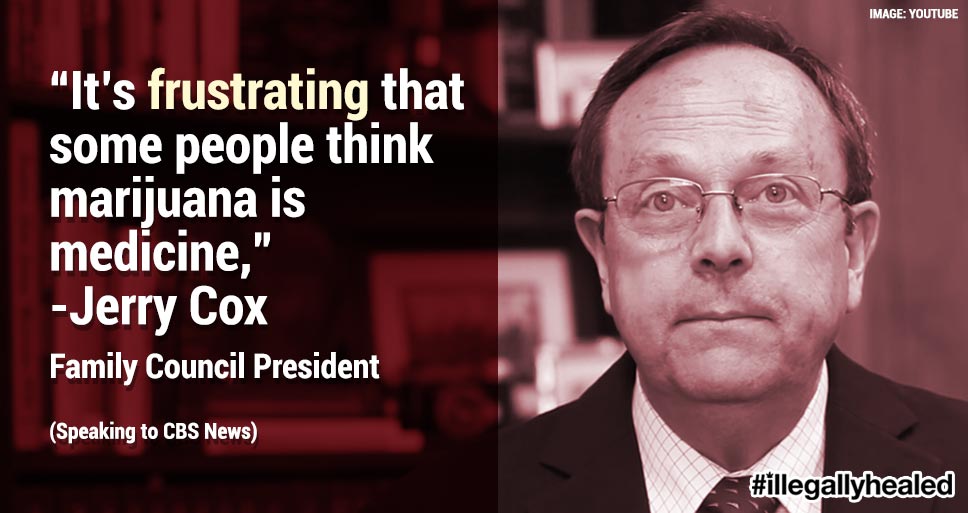 "This is simply a back-door way for otherwise healthy people to be able to buy marijuana, sell marijuana, smoke marijuana, use it in food, so forth and so on," Cox told reporters when the AMCA qualified.
Arkansas Patients Say Cannabis is Medicine
Despite what Cox or the Family Council say about cannabis, Arkansas patients are coming out strong.
"Marijuana helped me live a normal life during my battle with cancer, but it was too risky. I was offered marijuana during my last treatment but I couldn't bring myself to put my family in jeopardy," Emily Williams said in 2014 in support of that year's proposal.
Williams is the wife of Fayetteville City Attorney Kit Williams. Both she and her husband joined the campaign to promote 2012's measure. Williams used cannabis through her cancer treatments.
"It wasn't until my wife got sick that I knew we couldn't be quiet about this anymore," Kit Williams said.
Ryan Denham, deputy director for ACC, says he is confident the measure will pass this year because support has grown so much since 2012 and now spans all the state's demographics.
"Our campaign was backed by volunteers of all ages, races and backgrounds. Hundreds of volunteers have worked tirelessly over the last two years collecting signatures to get the AMCA on the ballot. Many of our volunteers are patients and their families that will benefit greatly from having safe access to medical cannabis. Now our focus will shift to voter education, fundraising and getting out the vote," Denham recently told #illegallyhealed.
Education Will Absolutely Be Key
ACC has shifted its efforts towards the general election, particularly education. Getting patient stories out into the media in all states has prompted more legislative action both from citizens and government on medical cannabis in all conservative states.
Watch as we talk with KISR Good Morning LIVE with Big Dog Rick Hayes…
Corey Hunt, co-founder of Illegally Healed, has actively been helping patient stories go viral online—from within Arkansas. While Hunt has visited and networked in legal states, he has now chosen to talk about his activism and how Illegally Healed intends to help Arkansas and other conservative states realize safe access.