Papa Bear Is On The Loose Again…
On July 28, 2014, O'Reilly and his crackpot team posted the following question on O'Reilly's poll center:
There is momentum behind the move to legalize marijuana for recreational use. Where do you stand?
We can't wait to see how Stephen Colbert serves this to O'Reilly but, in the meantime  Marijuana.com has so elegantly pointed out: 
"Bill O'Reilly's Marijuana Legalization Poll Completely Backfires"
The poll's purpose was, in O'Reilly's pipe dream world, to facilitate an extremely negative response and then to air a segment on The O'Reilly Factor derailing cannabis legalization (like he did Monday night). By polling his own audience, O'Reilly and his team could paint a delusional picture, but one supported by "data."
And at first, it worked. 81% of the initial voters responded with a resolute "No."
Then, the internet caught wind of the poll, made it go viral in the cannabis community, and worked its cannabis magic.
UPDATE: The poll is still active!
Here's how to get in on the fun:
1. Visit this link and click "Legal weed July 28, 2014" (As shown below.)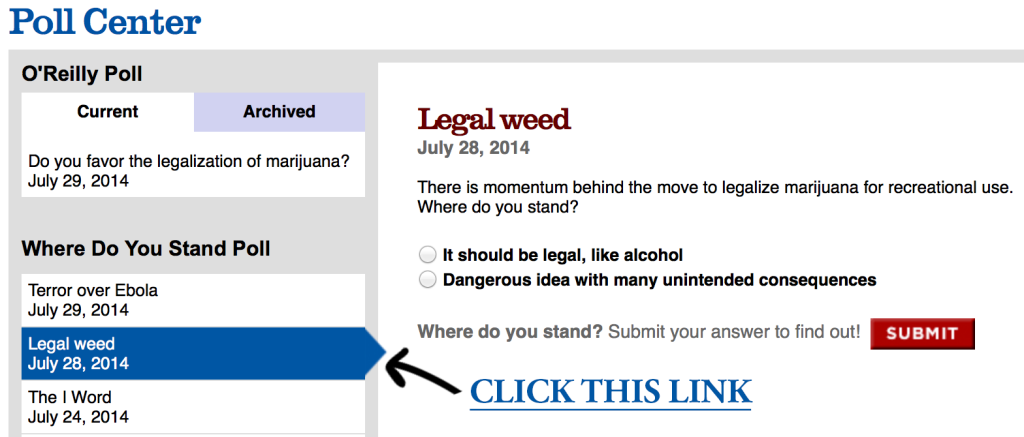 2. Answer the question and that's it, you're done.
At the time of this article (7/30/2014) the results show that 90% of America thinks marijuana should be legal, like alcohol.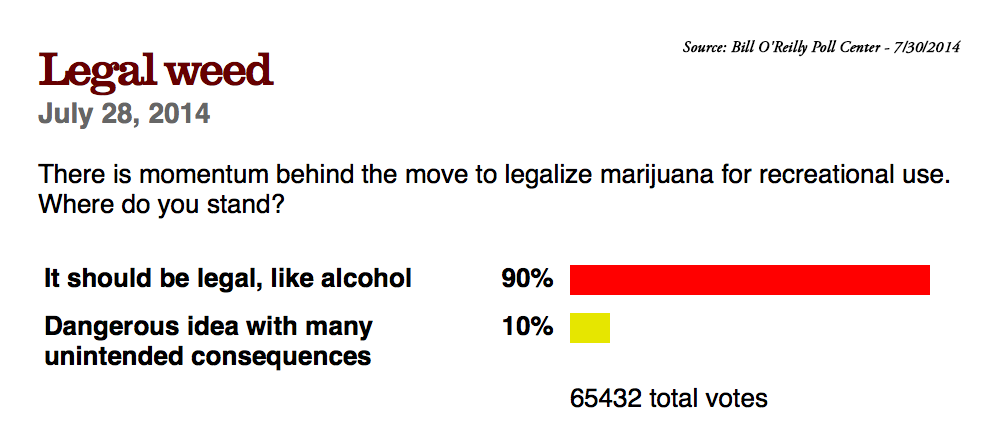 What do you think of this poll?  Does it accurately depict America in your eyes?  Sound off in the comments section below:
UPDATE: Bill O'Reilly claims; "Our BillOReilly.com poll on the legalization of marijuana caught the attention of the pro-pot brigades, who flooded the poll and totally skewed the results. The lesson is that morons are everywhere, but especially difficult to avoid on the Internet."