Breast cancer awareness month is winding down, and by now most people have seen an enormous amount of outreach soliciting donations for research and treatment. While conventional treatment has come a long way, over 40,000 women in the United States are expected to die from breast cancer in 2016, and besides lung cancer, the breast cancer death rates are higher than any other cancer. Cannabis may be a novel method of dramatically lowering these deaths and has already offered hope to many patients who have used cannabis extracts alone or alongside conventional treatment.
Real Research, Real Scientists, Real Results
Preclinical research has indicated that both THC and CBD hold promise for several different forms of breast carcinomas. A 2010 study conducted by Cristina Sánchez and Manuel Guzmán Complutense University in Spain found that THC strongly reduced tumor growth in animals. Interestingly, 41% of control animals developed 4 or more tumors, compared to 0% in the THC-treated group. This growth reduction was associated with THC's ability to induce apoptosis, or programmed cell death, in breast cancer cells, as well as inhibit the growth of blood vessels to tumors and impair proliferation. The cannabinoid also decreased metastasis of the cancer cells to the lungs.
Another study published one year later by a group in Boston, Massachusetts found that CBD could induce apoptosis in both estrogen receptor-positive and estrogen receptor-negative breast cancer cells. Unlike THC, which elicits its anticancer effects largely through cannabinoid receptor activation, CBD was shown to work independently of CB1 and CB2 receptors.
Research Unveils Answers and Hopeful Future
Another powerful way that CBD fights breast cancer is by blocking expression of the Id-1 gene, which promotes proliferation and invasion of breast cancer cells, as well as other forms of cancer.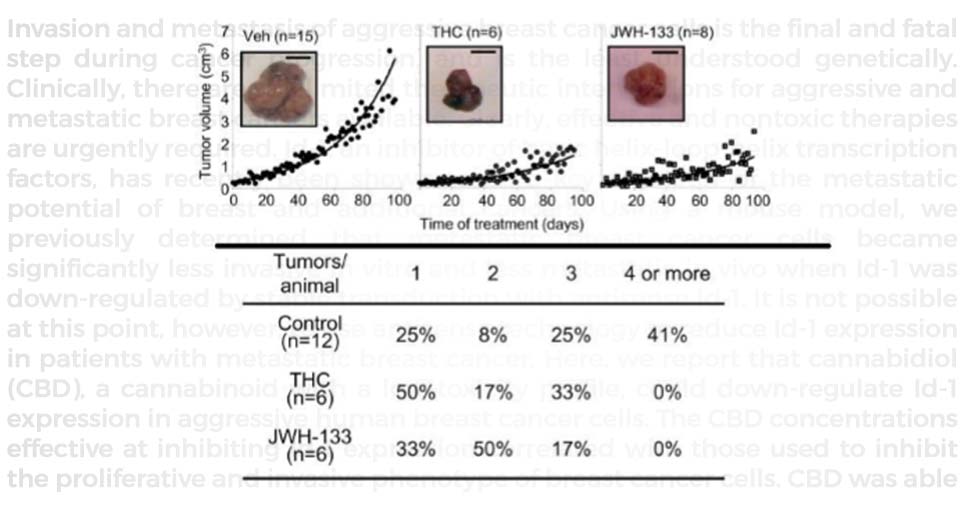 In 2007, Dr. Sean McAllister with the California Pacific Medical Center in San Francisco showed that CBD was significantly effective at inhibiting Id-1 expression. Researchers stated, "CBD represents the first nontoxic exogenous agent that can significantly decrease Id-1 expression in metastatic breast cancer cells leading to the down-regulation of tumor aggressiveness."
The preclinical evidence that plant-based cannabinoids fight breast cancer is important, but other research bolsters the possibility that cannabinoids would work in humans. First, the Sánchez and Guzmán study indicated that normal human breast tissue has no significant CB1 or CB2 receptor expression. However, cancerous tissue expressed slightly higher levels of CB1, and much higher levels of CB2. HER2-positive breast cancer was associated with especially enhanced CB2 expression. As with other pathological phenomena, cannabinoid receptors may increase as a defense mechanism against the continued progression of cancer. This notion is more likely given that both anandamide and 2-arachidonoylglycerol, our primary endocannabinoids, have been shown to inhibit breast cancer cell proliferation at least partially through cannabinoid receptor activation.
Results Go Beyond The Laboratory
Anecdotally, many patients have reported stunning results by using cannabis for breast cancer. This year, a January 2016 article described Kate Kytle's experience using a myriad of CBD-rich medicines alongside antibody therapies for HER2-positive breast cancer. Within five weeks of this combined therapy, the tumors nearly completely disappeared. "It's amazing what happened, Kytle said. It literally stopped my cancer from spreading."
There is still a long way to go, and more research is needed to determine the limits of cannabis extract medicine's effectiveness as well as ways to maximize it. However, that's not stopping some people from self-medicating. One woman, Susannah Patch, was diagnosed in July 2011 with an invasive form of breast cancer. She was eventually pronounced terminal and began taking cannabis oil alongside chemotherapy. After a few months of the combination, she dropped the chemotherapy in favor of a cannabis-only treatment. After over six months, several metastatic areas had regressed or stayed stable, an impressive result for cancer that was pronounced terminal by her doctors.
Unfortunately, Ms. Patch passed away on March 28, 2016. This was still far more time than she had been given, and in a world where new chemotherapy drugs are approved on the basis of extending life for a few additional months, it can still be said that cannabis offered real benefit. The article on her passing stated, "For what it's worth, Susannah Patch believed that cannabis helped keep her cancer in remission for as long as it was. A friend said 'it gave her hope' in the face of a terminal prognosis in 2011." Indeed, even when cannabis oil does not completely eliminate cancer, it often dramatically extends life and improves quality of life.
Experts In Cancer and Cannabis Weigh-in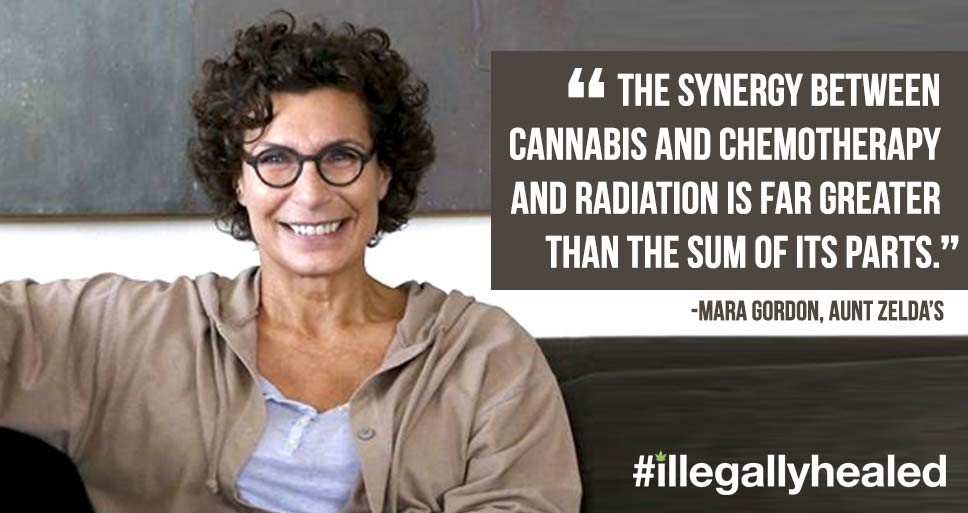 Mara Gordon of Aunt Zelda's has worked with hundreds of cancer patients and offered this statement:
"Many with breast cancers have been helped with the addition of THC and CBD to their standard treatment plans. It is important to communicate with your oncologist about all cannabinoids and supplements being taken as there can be potential interactions. With simple adjustments, the synergy between cannabis, chemotherapy, and radiation is far greater than the sum of its parts." – Mara Gordon, Aunt Zelda's
We've interviewed dozens of health experts on the subject of cancer and cannabis. One thing is constant, total healing is best achieved with a combination of factors, including nutrition, exercise, stress-reduction techniques like meditation, cannabis extracts, and conventional treatment. When patients give it their all and follow a plan with the input of their oncologist, outcomes can improve tremendously.