Cannabis patients are eager to learn about alternatives to smoking their herb. Many are skeptical of the health benefits of smoking combusted (burned) plant material. For these patients, vaporization is the answer.
Vaporization is the act of heating the herb to a point just below combustion, activating the cannabinoids and transforming them from solid to gas. Through vaporization, tar and other carcinogenic smoking byproducts are avoided. Vaping may be new to you, but the practice can be traced back to ancient Egypt where plants were laid atop hot stones for vaporization.
One of the most popular devices in 2017 to vaporize cannabis is the DaVinci Ascent and newly released DaVinci IQ.  The Ascent is about the size of an iPhone 5 and easily concealable, the creators have even added a lovely velvet pouch for even more discretion.
We've tested the DaVinci vaporizers over the past few months. Here's our review:
The DaVinci Ascent
At just under seven ounces, the Davinci Ascent feels durable, not heavy and carries the protection of a two-year warranty. There are several styles available; Stealth, Burl Wood, Carbon Fiber, Skulls, Croc Skin, or you can take it a step further and design your own Ascent for a personalized version.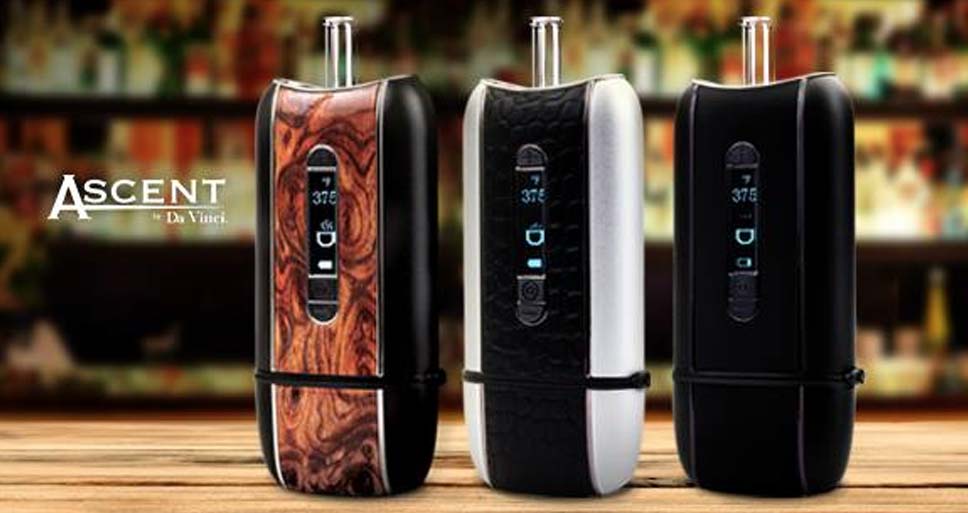 Ascent is the first portable vape to use a glass-on-glass design for its airway. The unit's convection oven is glass-lined ceramic and pairs nicely with the glass airway, which leads to the glass mouthpiece. Although hardwearing glass has been used, an extra airway and mouthpiece are also included. Ascent can be used with or without the glass stem. If stealth is your aim, the unit is definitely hard to identify sans stem.
Two rechargeable (non-removable) Lithium Ion batteries power the unit, a 12vDC wall charger is included. You'll need about four hours to fully charge (don't fret, you can use it while charging), that will get you nearly three hours of continuous vaping pleasure!
The herb chamber is huge and holds 0.3 grams. The door swings fully for easy access to the oven for loading and cleaning. A full bowl will go and go and goooooo. For personal use, I found it best to fill the oven a little over halfway and then plop an oil can on top for a spacer.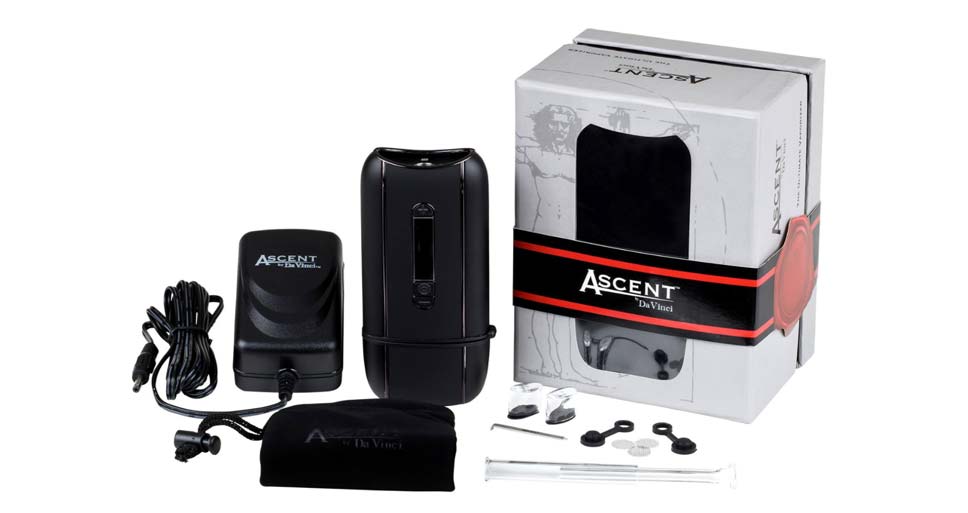 To power on, push and hold the button near the lip. There are a couple of options when it comes to heating the Ascent. You are able to select an exact temperature, which is easily adjustable in single degree increments either way. There is also a progressive heating option that allows you to step the temperature, gradually, throughout your session.
Even at low temperatures, the Ascent puts out a full-bodied vapor with a discreet smell. The large chamber size and long battery life and option to use oil make this an excellent option for an all-in-one, personal vaping device.
The DaVinci IQ
The IQ, DaVinci's long-awaited release, launched fall of 2016 and does not disappoint. IQ's dimensions are 1.65″ W x 3.54″ H x 0.94″ D, meaning you'll be able to fit this bad boy in your front pocket (yes, even girl jeans) and with a weight of only five ounces, you may forget it's in there! The shell is made of sand-blasted anodized aluminum and comes in Stealth, Copper, Blue or Gunmetal. Although I have not yet dropped the IQ, it feels like it could handle a little abuse and has a ten-year warranty to back it up.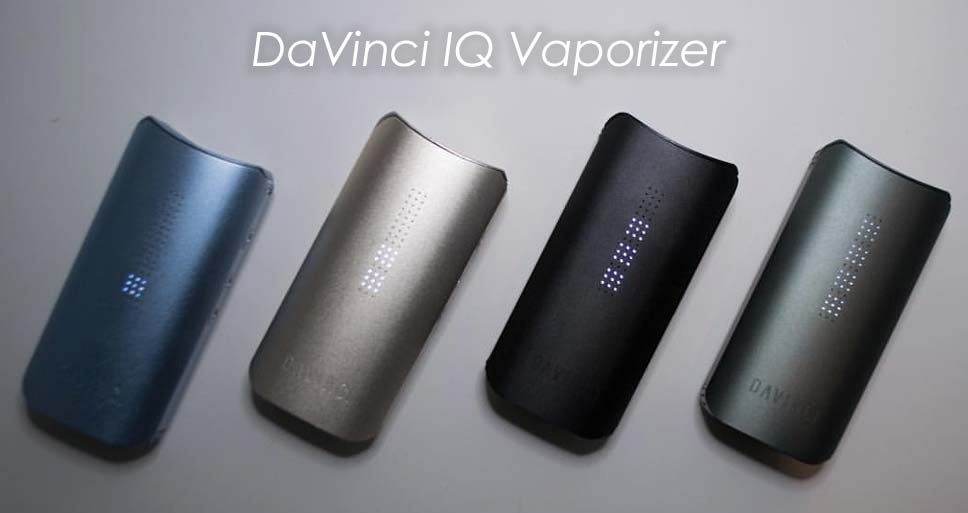 DaVinci utilized zirconia for IQ's internals, resulting in an unparalleled vapor quality that would make NASA proud. Hidden inside the device is a special "Flavor Chamber". Use the including pick tool to help access the Chamber. This can be filled with additional herbs for flavor or left empty to assist with airflow. A zirconia stem is also included to pair IQ with a water pipe for an even more filtered vaping experience.
The device cradles nicely in your palm and is easy to operate with a single finger. The unique display is comprised of 51 beautiful LEDs and is very simple to understand. Similar to the Ascent, IQ has a precise temperature option and also a progressive heating option that will step the heat up in intervals throughout your session. IQ also has an app that takes use and customization to the next level!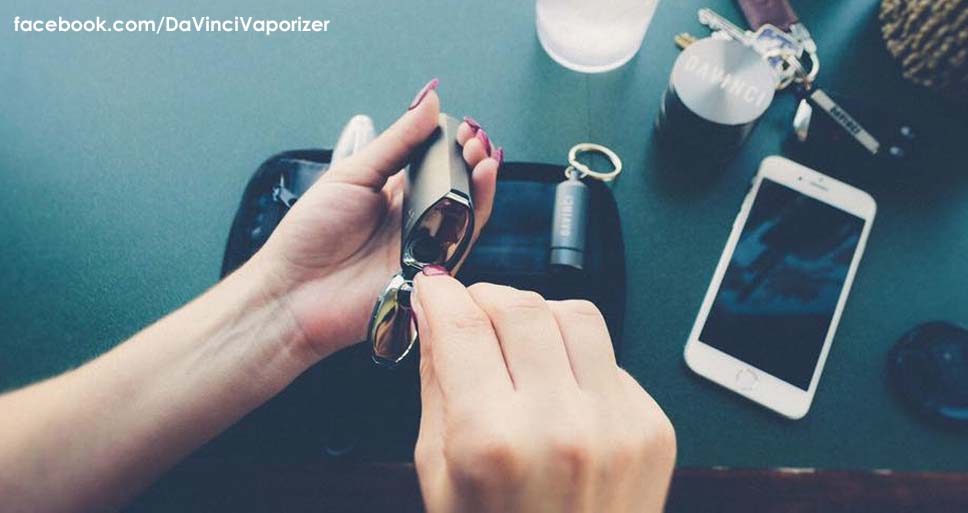 A zirconia pearl in the oven chamber allows you to adjust the capacity of the oven. IQ has a 30% smaller oven size than its predecessor, this isn't necessarily a bad thing for someone who likes to vape various herbs throughout the day. The design placement of the oven is nicely engineered and makes the unit easy to load. A brush is also included, which makes cleaning super simple.
Changing will take about three hours and will give you over an hour of continuous vape. You can use the IQ while it charges. Unlike the Ascent, IQ has removable 18650 batteries that can easily be swapped out on the go.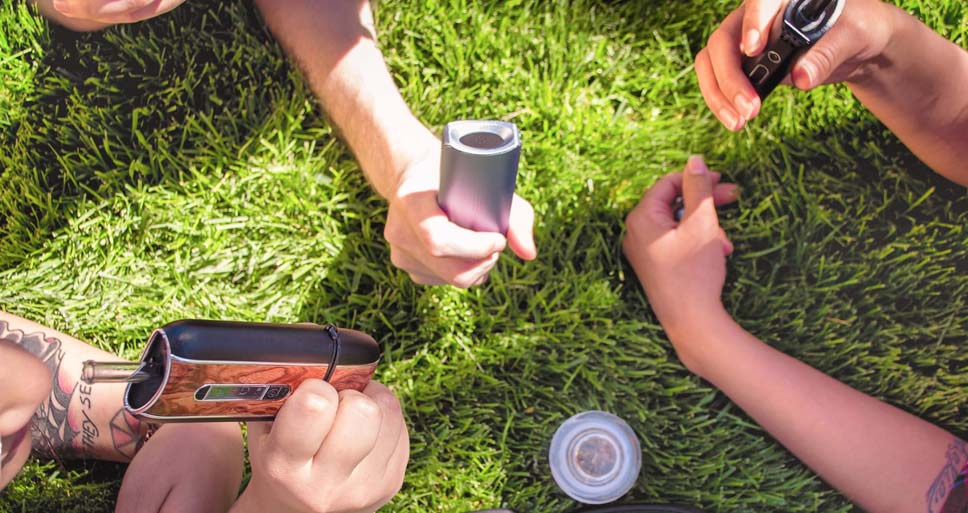 The unit heats up quick and you can begin vaping after around 30 seconds. The zirconia internals help to superheat your herb to the point of vaporization without combusting the material. IQ comes with two mouthpieces and works awesome either way. IQ produces a rich, velvety vapor with great taste.
Hands-on Conclusion
The DaVinci Ascent is a great device, and affordable! It is quick to learn, discreet and fun to use. The option to use concentrates makes this an awesome all-in-one unit, that's portable to boot! But, if a premium vaping experience is what you are looking for, the IQ is the vaporizer for you. The device is sleek (if not sexy!) with vapor production that will rival any desktop vaporizer.