From the day Cashy's tumor was discovered he marveled the medical profession and defied odds countless times.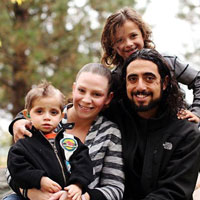 Cash Hyde arguably inspired the pediatric cannabis movement. He was initially diagnosed with a Stage IV brain tumor in May 2010. His prognosis was extremely poor, and he did not respond well to chemotherapy.
His father Mike administered cannabis oil through his feeding tube as a last resort, which caused a complete turnaround in Cash's health. By January 2011, he was pronounced cancer free.
Due to supply limitations, a proper maintenance dose could not be used, and his cancer returned. Yet again, Cash defied the odds and beat the cancer, and again, his maintenance dose supply was cut off. The cancer reemerged for a third time and ultimately proved to be too much for Cash.
Cash passed away on November 14th, 2012. The Cash Hyde Foundation now works to help other patients and educate the public, keeping Cash's spirit alive forever.