At the Ninth National Clinical Conference on Cannabis Therapeutics sponsored by Patients Out of Time, held from May 21-23, 2015, the latest information about cannabis medicine was shared with an audience of about 400 people. This conference, which marked the 20th anniversary of Patients Out of Time's founding, truly lived up to hype one would expect from an Anniversary event.
Day 1 and 2 Conference Activities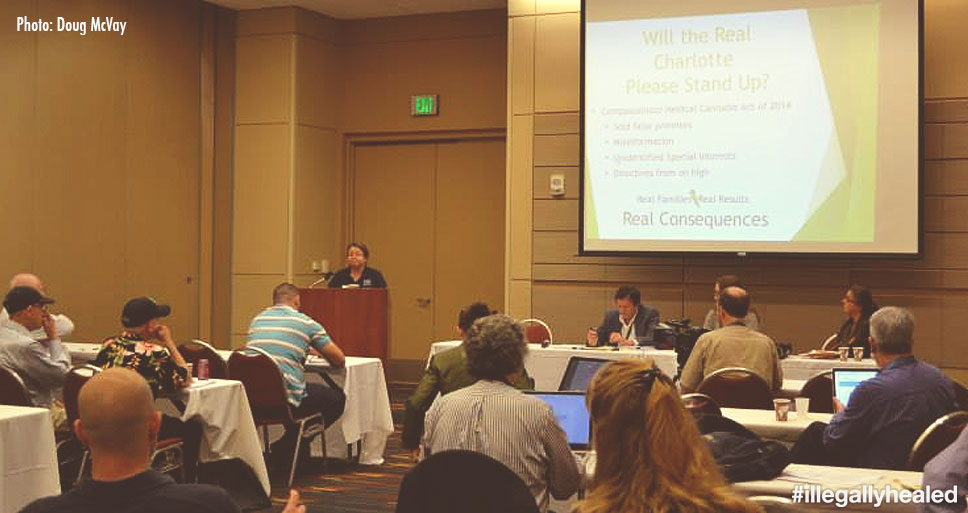 The first day was filled with workshops targeted to specific professions, including doctors, nurses, and legal professionals. These workshops allowed professionals to quickly learn about the issues specifically affecting them, packing an incredible amount of information into a relatively short amount of time. You can read about the doctor's workshop here.
The second day kicked off the main conference, with opening remarks from Al Byrne, a retired Naval officer and co-founder of Patients Out of Time. Byrne understands the desperate need of medical cannabis for Veterans, and communicated this urgency in a powerful and unique tone. He also was instrumental in successfully keeping the conference on track, which can be difficult in an event of this size.
Alice O'Leary-Randall, the wife of the late Robert Randall and legendary activist, discussed the history and failure of cannabis prohibition alongside Dr. Jon Gettman, former head of the National Organization for the Reform of Marijuana Laws.
Dr. Jeff Block of Block Botanical Gardens and Michael Krawitz with Veterans for Medical Marijuana Access showed real examples of historical cannabis products and talked about the future of such products.
Following a short break, a panel of legendary researchers, including Dr. Denis Petro, Melanie Dreher, RN, Dr. Donald Abrams, and Dr. Sue Sisley, moderated by Dr. Uma Dhanabalan, shared insights on the challenges and roadblocks to medical cannabis research. The overall consensus was that a great deal of opposition exists, as federally-funded research has historically been focused on harmful effects of cannabis. While things are beginning to change, cannabis is still a Schedule I drug and conducting research is absurdly difficult.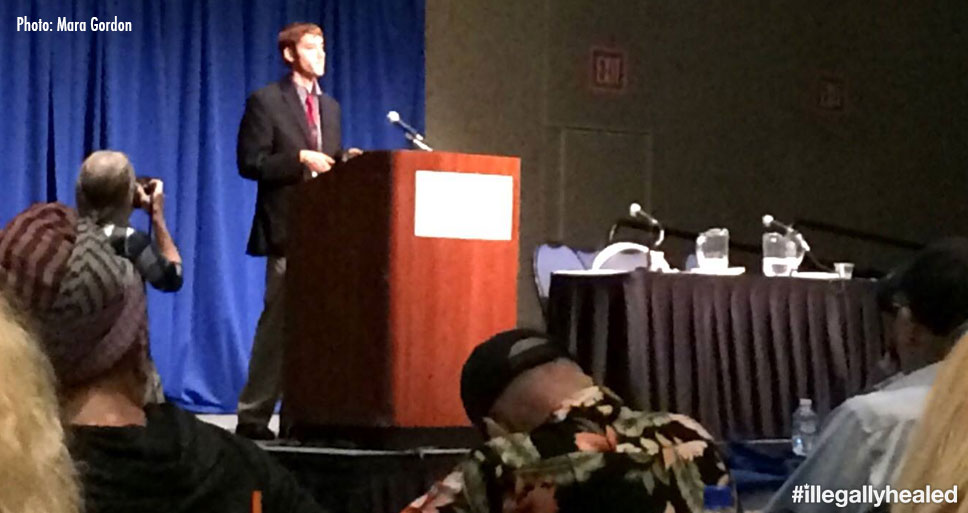 I presented on how cannabis is approached by the media by comparing different interpretations of negatively-oriented cannabis studies. I also talked about the rising reports of cannabis fighting cancer in humans, and the importance of discussing the issue in an integrated and balanced way.
After lunch, Dr. Dustin Sulak of Integr8 Health gave an overview of the endocannabinoid system's role in homeostatic regulation. In short, the endocannabinoid system helps maintain homeostasis at virtually every biological level. The ability of cannabinoids to balance the mind and body is exemplified by their addiction-reducing properties.
Dr. Greg Gerdeman, Assistant Professor of Biology at Eckerd College, showed studies suggesting THC may block relapse of cocaine, nicotine, methamphetamine, and even sugar addiction, while CBD showed promise against heroin relapse. While cannabis is generally not addictive, largely because it elicits rewards through a mechanism besides the dopamine pathway, some people can have some negative outcomes from use.
One of the most compelling presentations was Dr. Ethan Russo, a seasoned researcher and Medical Director for Phytecs. He elaborated on his theory of clinical endocannabinoid deficiency, which posits that a lack of endocannabinoids causes several diseases. He described evidence supporting this for fibromyalgia, migraines, and idiopathic bowel syndrome (IBS). For example, they are all conditions causing hyperalgesia (enhanced pain), and blocking cannabinoid receptors causes hyperalgesia. One study even found migraine patients had dramatically lower levels of anandamide. By the end of the presentation, it felt undeniable that endocannabinoid deficiency was the primary or at least a major factor in these three conditions.
The final presentation of the day was by Dr. Juan Sanchez-Ramos, the Director of Movement Disorders at the University of South Florida. He illuminated the critical role of the endocannabinoid system in aging. Over time, there is a general decline of cannabinoid receptors and endocannabinoid release. This decline occurs at different rates in different parts of the brain, and could explain increased risk of health problems in the elderly. Animal experiments have shown that mice without CB1 receptors have increased cognitive decline and neuronal loss, while those without CB2 receptors have osteoporosis and overall body aging. Therefore, cannabinoid receptors seem to help keep organisms young and delay disease.
Day 3 Conference Activities
The next day started with a welcome address by Al Byrne, which was remarkably inspiring, structured, and emotionally powerful. The importance of cannabis was potently conveyed by Dr. Bonni Goldstein, who has worked with many pediatric epilepsy and cancer patients in California. 75% of her patients have observed a greater than 25% decrease in seizures. She also discussed research indicating a deficiency in endocannabinoids is associated with epilepsy, building on the possibility that epileptic conditions may ultimately be manifestations of clinical endocannabinoid deficiency.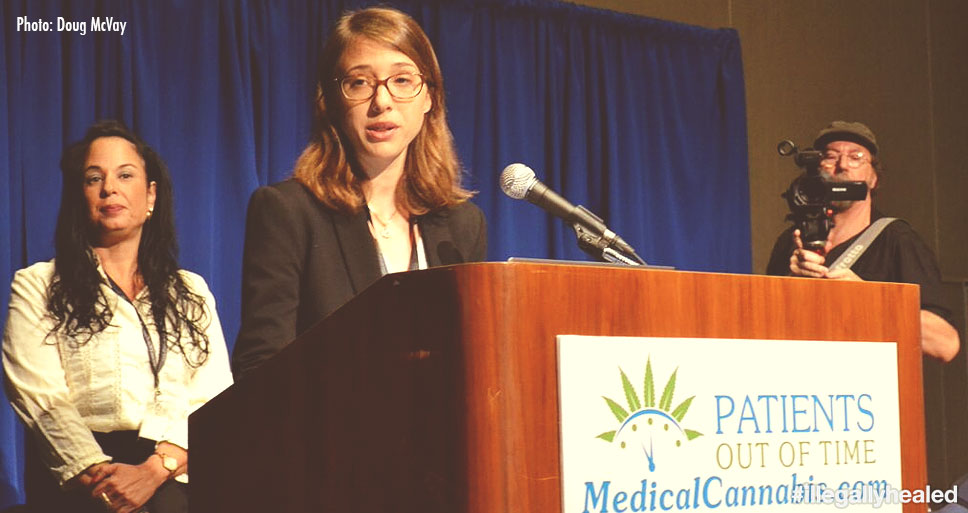 Ma'ayan Weisberg and Inbal Sikorin, RN, from Tikun Olam, the largest supplier of medical cannabis in Israel, spoke about how the organization operates as well as several patient experiences. For example, one patient had a 90% reduction in seizures, and others experienced drops in pain levels.
The potential of cannabis to potentially cause an illness was addressed by Thomas Lee, an MHA candidate. Lee described the symptoms of cannabis hyperemesis syndrome, which include nausea, vomiting, thirst, and compulsive bathing. Some people experience this syndrome when using cannabis, and find relief in hot showers, which seems to relieve the nausea. It may be potentially treated by taking a 2-3 week break from cannabis and then restarting with a small amount, but anyone with the condition needs to be careful.
Allie Butler, founder of The Hepburns, and Sara Payan, Director of Education for the Apothecarium in San Francisco, talked about the importance of education. Many dispensaries fail to educate their patients about the best ways to use cannabis; patients are often afraid to ask for help, and employees are afraid to offer it. It is critical that patients have access to more knowledge so they can make more informed decisions.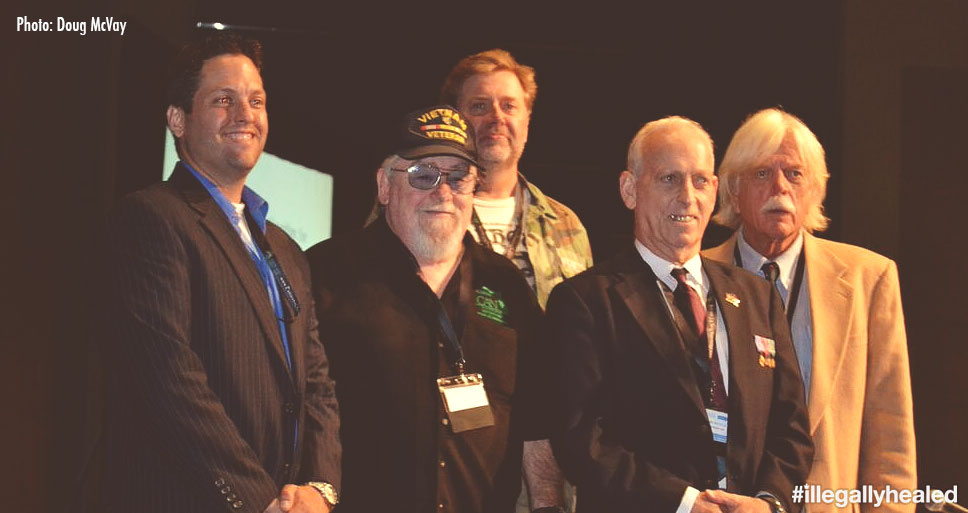 At the Veterans Panel, several Veterans described the importance of cannabis for PTSD and other issues. Perry Parks said we are largely fighting a war against ignorance, as the public at large has been misled about the true safety and utility of cannabis. Despite all the opposition, truth gives the conviction to fight. Robert Jordan, a Vietnam Veteran, gave a touching speech about his struggles after returning from the war. Nothing helped, and he dealt with a lot of personal issues. Thankfully, he was able to get off ineffective pharmaceuticals with cannabis, which did not have the same addictive properties as other drugs.
Jacques Steigleman told the story of his struggle after being injured in Afghanistan. Doctors hooked him on pharmaceuticals, and when he started using cannabis to slowly get off the other drugs, the doctors cut him off too fast. This led to even more addiction, but Steigleman was eventually able to get off them with cannabis. The plant is far safer than anything physicians prescribe, and often far more effective.
Bryan Krumm, CPN, MSN, APRN-BC, outlined the terrible history of psychiatry and the imperfections of pharmaceuticals. He also discussed the benefits of both CBD and THC, as well as other natural things that can be done to enhance their effectiveness, such as fish oil, Vitamin D, and probiotics.
Eric Steenstra, the Director of the Hemp Industries Association, described the amazing ways that industrial hemp can contribute to health. From its role as a phytoremediator to the incredible nutrition offered from hemp seeds, it can make a huge difference to society. Hemp also offers novel, unique applications, such as providing material for superconductors.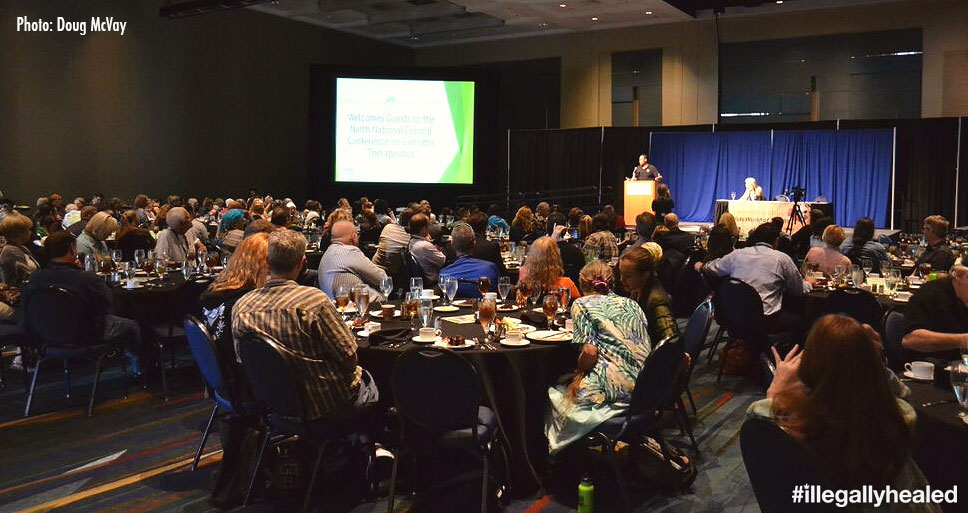 During lunch, there were presentations by a sports panel. Snowboarder Greta Gaines and former NHL and NFL players Riley Cote and Reginald Jones, respectively, discussed the importance of cannabis in the world of sports. It can help accelerate healing from injuries, deal with anxiety, and provide neuroprotective benefits. Dr. Andrew Weil also shared his support for medical cannabis via Skype.
After lunch, Dr. Deborah Malka talked about safe dosing methods for seniors. As with anyone, it is critical for seniors to start with low doses and slowly build up to what works for them. Depending on the condition, either THC-rich and/or CBD-rich strains will be suitable. Dr. Sulak continued with more information on dosing, including his sensitization protocol, which employs short breaks from cannabis intake to increase effectiveness upon restarting cannabis therapy.
Following a short break, Dr. Darryl Hudson delivered an overview of cannabis genetics and breeding. By having standardized and customized strains, patients can find what works best and be sure that they will get the same product every time. There needs to be further innovation in cannabis breeding, including to develop strains higher in lesser-known cannabinoids like cannabichromene and cannabigerol.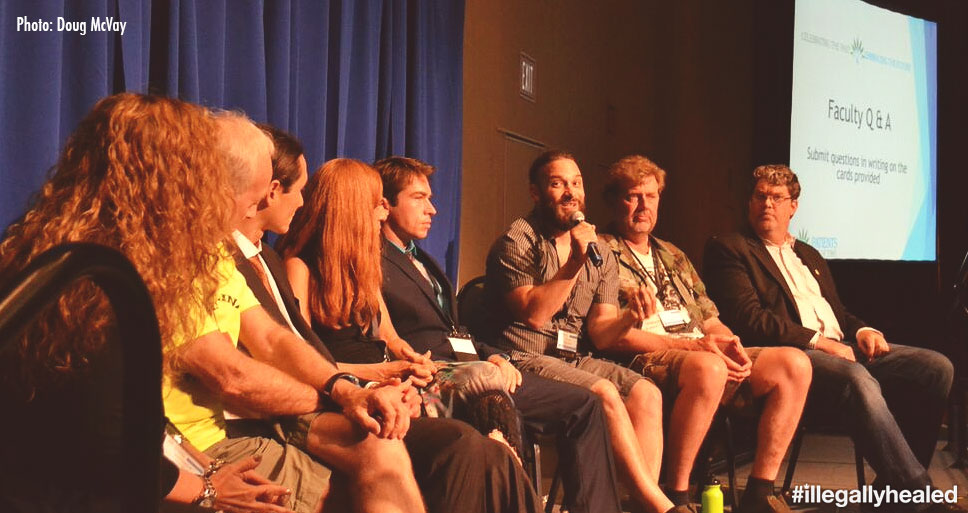 Mary Lynn Mathre, the President and co-founder of Patients Out of Time, finished off the conference with a big-picture talk about cannabis medicine in general. Unlike any other drug, no one can overdose on cannabis. It is a plant, not a drug, and it deserves to be made available to everyone. Following the conclusion of Mathre's talk, the audience had an extensive Q&A session with the day's faculty.
There was a revolutionary spirit throughout the atmosphere of the conference. Everyone was so excited about what they were learning, and attendees passionately shared their experiences between presentations. As people digest what they learned, they will educate their communities and help advance cannabis knowledge at an ever faster pace. It is hopeful that by next year's conference, we will have seen substantial legislative reform across the United States and the world at large.