By: Justin Kander
Lung cancer is one of the most difficult cancers to put into remission. Treating it usually requires a combination of chemotherapy and radiation to initially shrink tumors, then surgery to remove them. In advanced cases, even these techniques often fail to save the patient's life. New hope is desperately needed for late-stage lung cancer patients, and cannabis oil increasingly looks to be a viable solution.
Sharon Kelly is an Australian woman who was diagnosed with Stage IV non-small cell lung cancer on January 17th, 2014. Cancer had been found in various areas including her left lung, three lymph nodes, and left collar bone. The 5-year survival rate for this cancer is only 1%. Kelly's situation looked dire.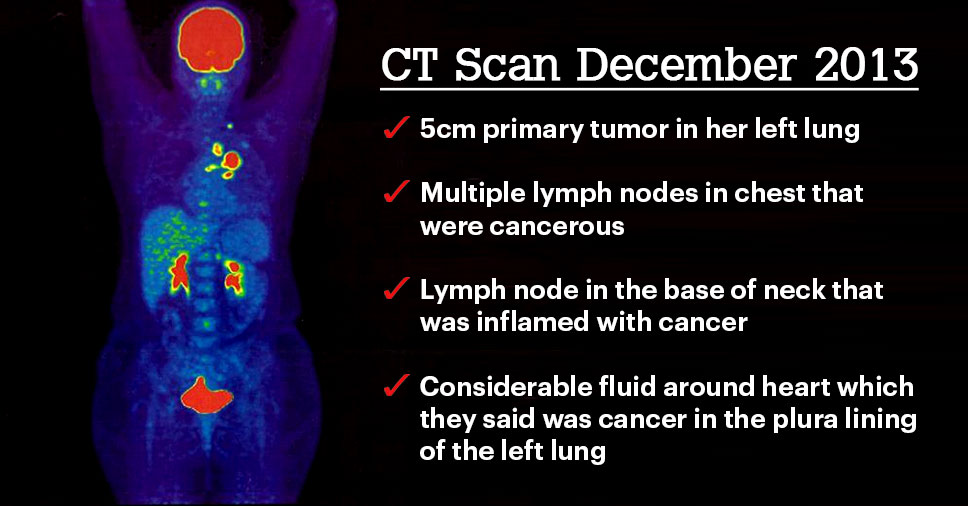 Traditional Treatment Options…
Chemotherapy is often prescribed to extend life and relieve symptoms, but offers virtually no hope of total remission. Kelly initially had two intravenous chemotherapy treatments immediately after diagnosis in January, and then was switched to an oral chemotherapeutic drug called Tarceva. With this drug, Kelly's life expectancy was between 6 and 9 months.
Obviously wanting more than just life extension, Kelly did her own research and discovered that cannabis oil may be able to completely eliminate her cancer. Not wasting time, she added the cannabis oil to her traditional therapy in February 2014.
For a short time, she also directly juiced raw cannabis leaf, which can enhance the effectiveness of decarboxylated cannabis oil by supporting it with raw cannabis nutrients. To avoid psychoactivity and increase dosage, Kelly also began taking cannabis oil through suppositories.
On September 3rd, 2014, a PET scan showed Kelly was free of cancer.
This dramatic turnaround defied doctor's predictions and medical statistics. Since her success, Kelly has helped thousands of people through her story and direct communications with other patients.
The fact that Kelly had to undergo this lifesaving treatment in secret is a travesty. While protections for severely ill patients in Australia have grown considerably over the past few months, laws against the plant still stand. Most importantly, there is no safe point of access for cannabis extracts, so patients are forced to go underground to obtain the only medicine that has a chance of saving their lives.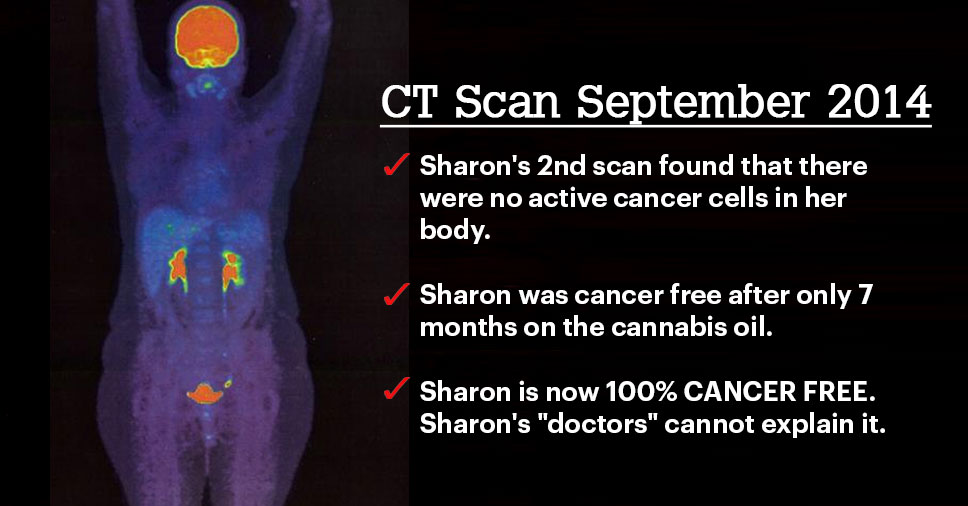 For years, scientific studies and anecdotal evidence have supported the effectiveness of cannabis extracts for lung cancer treatment. It is a matter of international urgency that cannabis extracts be made available to lung cancer patients, who could have their lives saved or significantly extended with the medicine.
Here's Sharon's "happy video" testimonial with before and after PET scans. Like & Share!