Last week we released the final video in a 7-part documentary series, "The Right Side of History", featuring Utah patients and their families openly discussing their often illegal use of cannabis and the need for policy reform in the state. I produced the series with filmmaker Val Douroux and finishing editor and co-founder of #illegallyhealed Corey Hunt as a collaboration with the Drug Policy Project of Utah (DPPU).
The Right Side of History comes on the heels of the state's first ever proposed legislation to legalize whole-plant medical cannabis for a range of conditions including cancer, epilepsy, autoimmune disorders, chronic pain and PTSD.
In 2014, Utah was the first state in the nation to pass a restrictive "CBD-only" medical cannabis bill. The bill, H.B. 105, or Charlee's Law, allows certain epileptic persons to possess medicines derived from cannabis high in the non-psychotropic cannabinoid CBD and low enough in THC that it could fit the arbitrary legal definition of industrial hemp. There is no legal mechanism to obtain the medicine in state so families must break federal law by mailing or smuggling the medicine across state lines.
The bill's namesake, 6-year-old Charlee Nelson, died of complications of her condition just days after H.B. 105 was signed into law by Governor Gary Herbert. The bill was replicated in some fashion in 11 more conservative states, and counting. While the intention of these sorts of bills was to help children who are suffering, dying and out of pharmaceutical options, in every state where such legislation is passed, families are struggling to obtain the medicine, or finding that their child may need more THC or the rest of the compounds found in whole-plant medical cannabis.
Families like that of 5-year-old Landon Riddle of St. George, Utah, found their only option was to move to Colorado. Landon's story is all too common in states without medical cannabis laws, which is why so many families are leaving their homes and moving for marijuana.
In January 2015, State Sen. Mark Madsen introduced S.B. 259, Medical Cannabis Amendments into the state legislature. The bill would have legalized the production, manufacture and distribution of whole-plant medical cannabis to qualifying patients with the recommendation of a doctor. Utahns from all walks of life came out to support Madsen as he attempted to pass this important bill.
S.B. 259 was narrowly defeated in the senate by one flipped vote despite multiple polls evidencing the overwhelming support for the legislation in the state. Notably, a Y2 Analytics poll conducted during the legislative session sponsored by DPPU and libertarian-think tank The Libertas Institute showed 72 percent of likely voters support safe access to medical cannabis, including 66 percent of Republicans and 67 percent of Mormons, or members of the Church of Jesus Christ of Latter-day Saints.
The effort to legalize medical cannabis in Utah unified a diverse group of people to come together to not only solve a human rights issue affecting all Utahns but to set an example for other conservative states. In states with functional medical marijuana programs miracles happen every day, in prohibition states people are needlessly suffering, dying and risking their safety on the black market. Many families choose to leave their homes behind for a legal state. For us, it was important to highlight this issue for what it was in Utah and around the world. Medical cannabis isn't an issue of divisive identity politics, it is about human rights, healthcare and freedom.
We created this series because we wanted to put a human face on the issue for opposition legislators or those unsure about the safety and efficacy of medical cannabis. Of the seven stories, four are of Mormon families bravely discussing the historically controversial issue, a first in the effort for drug policy reform.
The series opened with "Treating Cancer During Pregnancy Naturally: The Tenille Farr Story", which was covered on hundreds of media outlets internationally.  Farr is Spanish Fork mother of five and devout Mormon. While she was pregnant with her fifth son, Gabe, she was diagnosed with stage-2 Hodgkin's Lymphoma. If she underwent chemotherapy to treat the cancer, she risked losing Gabe or delivering him prematurely at severe risk to his health. She left her family to treat her cancer with herbs and cannabis in Colorado and California and delivered a healthy baby in January and her tumors had stopped growing. She is back in Utah and still has cancer but per her religious beliefs does not want to use cannabis in the state until it is legalized.
This is, perhaps, the crux of the issue in Utah. Two-thirds of citizens and ninety percent of the state legislature are members of the Church and share the same beliefs as Farr. The Articles of Faith lay out the 13 fundamental beliefs of all Mormons. Article 12 states: "We believe in being subjects to kings, presidents, rulers and magistrates, in obeying, honoring and sustaining the laws of the land." Mormons have a religious belief that precludes them from breaking the law. Many in the state say they want to see it legalized so they can have the opportunity to try it, or suggest it to a friend of family member.
So, while many Mormons support or want to use medical cannabis, the only option for them is to wait until it is legal. For some of the families we profiled, like the Campbell Family of Orem, there isn't time left to wait. Three of their children have been diagnosed with a fatal incurable disease, metachromatic leukodystrophy. Their oldest daughter, Tori, was the first to pass away in September 2014. Their second child with the disease, Maddie, has already lost brain function and progressed into the painful and debilitating symptoms of the disease. The Campbells have chosen not to wait to treat Maddie, they just don't have the time.
Americans may assume it is the respected duty and obligation of legislators to look seriously into issues that are overwhelmingly supported by their constituents. It is not, for many legislators politics is nothing but a game of balancing money and ego. Those senators who took the time to look at the issue objectively, speak with patients and do the research overwhelmingly landed in favor of the bill, but in order for it to pass in 2016 more legislators must do the research and support the will of the people.
Every patient profiled in the series risked their freedom and reputation to support the passage of S.B. 259., notably State Senator Mark Benson Madsen, who was profiled as a patient in the fourth video in the series. For all of these patients and their families, politics isn't a game at all, it's the absurd reality that must be dealt with in order to choose safe natural alternative medicine.
Madsen sought medical cannabis for relief of his chronic back pain after experiencing an overdose of fentanyl after a patch he was wearing accidentally tore in 2007.
Prescription painkillers have become deadly business in Utah.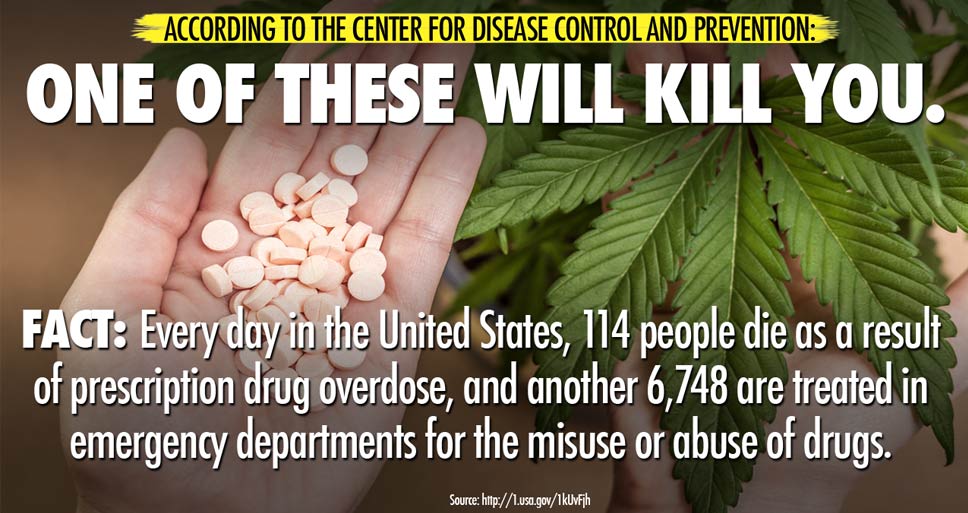 According to the Utah Department of Health, an average of 21 Utahns die of a prescription overdose every month and opioid painkillers are now a leading cause of death. In 2012, Utah doctors wrote prescriptions at a rate of 85.8 per 100 people in the state. Oxycontin, and other legal opiate painkillers, are highly addictive and pharmacologically similar to opium-derived drugs such as heroin. Heroin and prescription opiate addiction is now an epidemic in the state of just 3 million people.
We at #illegallyhealed and Drug Policy Project of Utah see this situation for what it is. People are needlessly suffering and dying in Utah, and other conservative states, to serve partisan politics. The people who are fighting the hardest for freedom at the capitol in Salt Lake are perhaps the sickest. Legislators who choose to stand on the right side of history will give these patients their ear and their respect. Legislators who choose to stand on the right side of history will take the time to really read the studies, watch the documentaries and read the articles.
Madsen's bill was one of the first to be filed for the 2016 legislative session. In May, Governor Gary Herbert stated publicly he was open to the idea of whole plant medical cannabis. Patients and legislators are already ready to take a stand this January in Salt Lake.
It's time for all Utahns to stand on the Right Side of History, to pioneer the way through the drug policy desert and build a home for research and healing where the rest of Americans thought it couldn't be done.