Arkansas will vote November 8th for the chance to become the 26th State to legalize medical cannabis. It's a done deal. It's on the ballot. And, this seems to have proponents of cannabis, scared, confused, or a little of both.
I wanted to find out why some people in Arkansas are so scared of this plant.
So, I called Jerry Cox of the Family Council. He's the quarterback of the anti-cannabis movement here in Arkansas, albeit the J.V. squad.
It was a Friday afternoon at 5:03PM. I expected a voicemail.
What I got instead was 13 minutes of an open and honest conversation where amongst other things, we discussed two competing medical cannabis initiatives in the Natural State.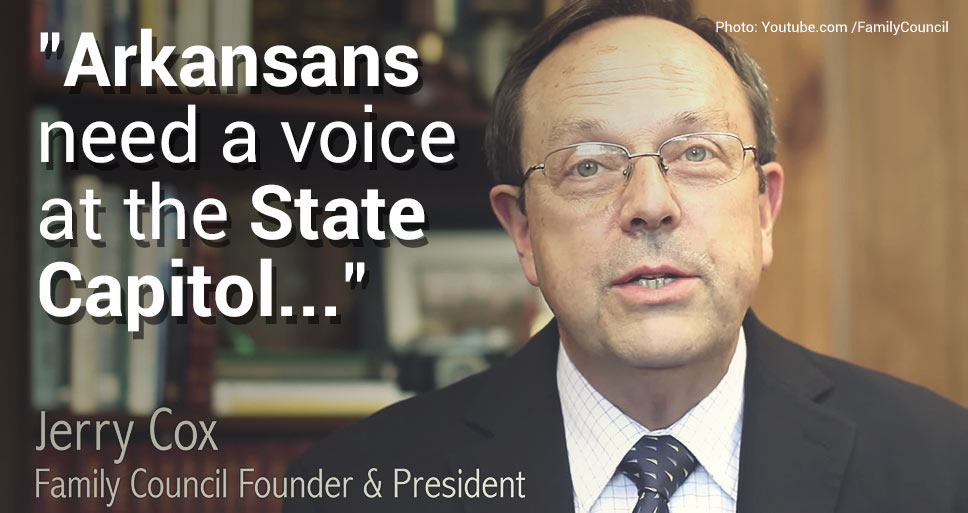 Jerry and I both agree that the Arkansas Medical Marijuana Amendment of 2016 (AMMA) seems to be "a brazen attempt at a marijuana monopoly." The AMMA is one of two competing ballot initiatives that will be presented to Arkansas voters in November.
I was surprised however, that Jerry would reference the AMMA as "a different kind of bad" compared to the Arkansas Medical Cannabis Act (AMCA). The AMCA is a patient centric, empowering initiative that actually makes sense for the Natural State.
Wait a minute Jerry; Let's talk about this real quick…
The AMCA had overwhelming support and signatures from across the Natural State. The AMCA will provide safe access and compassionate care to more patients than any other medical cannabis program currently in the United States. The right way!
Jerry wanted me to email him… So, I did.
Subject: Jerry, Let's Talk Cannabinoid Therapies…
Date: 07-09-2016

Jerry,
Thank you for taking my phone call after business hours on Friday. I trust your weekend is off to a great start. I enjoyed our discussion on medical cannabis coming to Arkansas, and I'm looking forward to many more.
You, your staff, and the entire Family Council have an open invitation to join us at the Arkansas Medical Cannabis Symposium this September. It would be great for your pastors and ministers to learn about medical cannabis from real, practicing physicians and medical professionals.
Like yourself, I am a proud Arkansan. As you may recall from our phone conversation I'm also the co-founder of #illegallyhealed, an ever-growing community of patients, physicians, scientists, researchers, legislators, and activists from around the world.
We started Illegally Healed because we saw how cannabis is literally saving people's lives and we weren't able to idly stand by as silent witnesses.
Three years ago before I started this project, all I knew about "pot" was its reputation as a party drug. I was ignorant of how this herb was being used medicinally, helping sick and hurting people. My veil of ignorance was was gradually lifted as I met more and more doctors, scientists and patients who have real data, research, and testimonials that can not be denied.
This experience changed my life. It became personal.
Then, in 2015 we produced a video series (The Right Side of History) in support of Utah State Senator Mark Madsen's groundbreaking medical cannabis bill. This series features terminally and seriously ill Utah patients, in their own words. It went viral online and was eventually covered in international media.
Mothers, Daughters, Grandmas, Grandpas, and even Teenagers are all "coming out" talking about how medicinal cannabis is helping them or someone they love. The truth is captured in their eyes—not just hearing their story on the news or reading about it on some blog. This content is readily available in an easy-to-understand format. We invite you and your organization to join the discussion on Facebook.
Senator Madsen himself has publicly called for his colleagues to legalize whole plant cannabis "Because it Works!" He knows first hand the relief whole plant cannabis provides.
Despite potentially negative political ramifications, Senator Madsen came out and shared his personal story. I encourage you to watch he and his wife Erin explain why they came around on this issue. (Editor's note: The video is embedded below — if you're still reading this article, just hit play; it will change your life.)
Madsen is the grandson of Ezra Taft Benson, President Eisenhower's secretary of agriculture and president and prophet of the Mormon Church from the mid-eighties until the time of his death in 1994.
Watch & Share! The Right Side Of History – Episode 4

Utah State Senator Mark Madsen (R-Saratoga Springs) talks openly about the day he almost died of a prescription opiate overdose, using cannabis for his chronic back pain in Colorado and why he is leading the charge in one of the nation's most conservative religious states. Madsen believes in individual liberty and wants to free patients from misguided government drug policy.

Find out more visit: http://www.dpputah.org/

Posted by Illegally Healed on Saturday, April 25, 2015
Utah was key because it was the first time so many people risked exposing themselves as cannabis patients in a hyper-conservative, religious, and illegal state. Those brave people pushed the public opinion of cannabis in Utah to well over two-thirds support of the state.
Jerry, you and I can be honest with each other here…
Everyone knows someone who's "smoked pot" before. Our last three Presidents for example. Barack Obama, George W. Bush and Bill Clinton have all admitted to using cannabis, although our former Governor still claims he never actually inhaled.
If the "Leaders of the Free World" have acknowledged their use of this herb, why keep sick and dying patients from it?
Every time patients are being derogatorily referred to as "just a bunch of potheads," you're going to see an article about how cannabis is helping a grandmother with MS; or my friend Coltyn Turner, who's 16-years-old and had to move to Colorado in order to manage his Crohn's Disease by using a whole-plant cannabis extract; which he takes daily.
For every time someone says "Cannabis is not medicine," you'll see articles that prove otherwise:
> Forget Politicians, Here's What A Doctor Says About Cannabis and Pain
> How Safe is Cannabis? This Doctor Takes A Cold Hard Look At The Facts
> This Doctor Says Our Bodies Are Hard-wired For Cannabis
> This Doctor Destroys Cannabis Myths Once And For All
The solution to our shared concerns is education and awareness. Cannabis patients are all around you, making positive contributions to our society every single day.
What will you do when someone you love needs this medicine? They probably already do.
Patients in Arkansas are demanding safe access. The tide has changed, just ask Kevin Sabet…
Looking forward to a response,
Corey Hunt
co-founder
#illegallyhealed