On a beautiful southern day in the heart of the Natural State, Dr. Gregory Bledsoe, the Arkansas Surgeon General, spearheaded a "white coat press conference" in the hopes of derailing the medical cannabis initiatives on the Arkansas ballot this November 8th.
Flanked by Governor Asa Hutchinson and a handful of Arkansas physicians, the master derailment plan did not seem to win over many Arkansans. Over half the state supports medical cannabis and this same issue was just narrowly defeated four years ago. The Arkansas press was quick to remind the Governor of this fact.
Arkansas Press: Are 'yall on the losing side of this battle?

Governor Hutchinson: We'll find that out on November 8th.*
According to KARK, the Governor is giving $10,000 from his political action committee, called Asa Pac, to a group fighting against two medical marijuana proposals.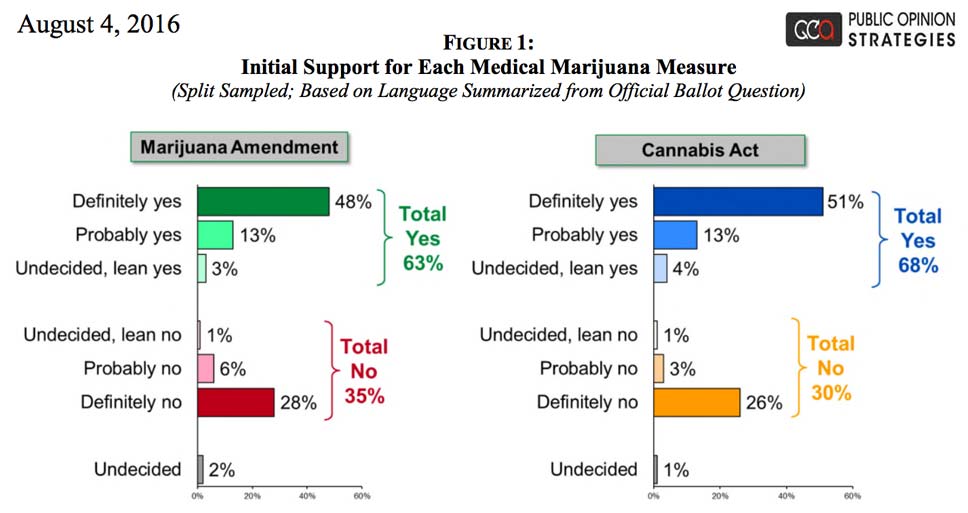 This Comes As No Surprise
It's no surprise Gov. Hutchinson is leading the charge against medical cannabis. Hutch is very familiar with what Dr. Bledsoe calls "marijuana, the plant."
"As the head of the DEA I had 4,000 agents working to enforce our drug laws." Gov. Hutchinson told KATV in 2015. Hutchinson was the chief administrator of the DEA in the early 2000's and oversaw the raids and closures of many San Francisco Bay Area dispensaries in 2002, even arresting cannabis cultivation author Ed Rosenthal, who faced 20 years on the charges.
Hutchinson hoped to use Rosenthal as an example, but via the court of public opinion and jury nullification, he was famously sentenced to one day in prison with credit for time served.
We've Heard It All Before
As one of the youngest Surgeons General in America, Dr. Bledsoe is very active on social media. His Twitter feed is constantly filled with fearmongering and, more importantly, confusion about cannabis, which he likes to call "marijuana the plant".
I'll spare you the details, and yes you've heard it all before, it's the common "marijuana is bad for kids, marijuana is not medicine, marijuana will kill you" propaganda. It's not the fearmongering that made me look twice, it's the fact that Dr. Bledsoe knows what he is doing.
The Arkansas Surgeon General is promoting for-profit pharmaceutical derivatives based on the cannabis plant, as opposed to botanical cannabis as a medicine, a stance that puts pharmaceutical profits over patients.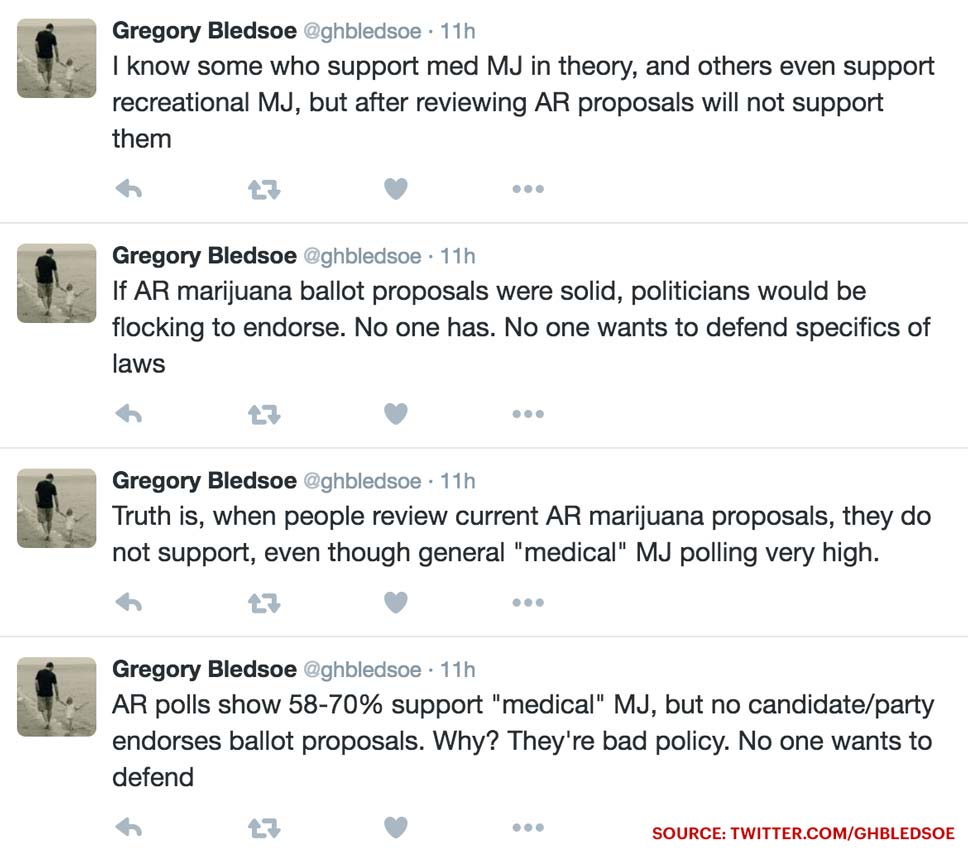 Who's On The Right Side of History?
Clearly, Dr. Bledsoe is concerned with the optics; medical cannabis makes a difference in patients' lives and healthcare. The downside to this is not that Arkansans will be harmed, just not be helped in the "right" way, which would be isolating and synthesizing compounds from cannabis into pharmaceutical drugs.
When Utah State Senator Mark Madsen, the proponent of two recent cannabis bills in conservative Utah, brought his fight to the Utah state house for cannabis, he warned his supporters that his opponents would stop at nothing to prevent his bills from passing, and he was right.
He claimed that once he debunked all the reefer madness, his opponents would move on to attacking the language of the bill, not the topic.
"That's the hardest part, is that these people [patients] are now condemned to suffering or persecution [or] prosecution. It harms the reputation of our state. We're seen as being uncompassionate, forcing these people to live in the shadows and tearing families apart because people are trying to be healthy," Senator Madsen said.
Madsen predicted that when these changes were made, they would go after him and his motives. He was right, because he knew the fight was never about the safety of cannabis, it was about the safety of the wealth of those who profit on its prohibition. He refused to take out access to whole plant cannabis and his bills were dramatically and narrowly defeated.
Doctors Are Coming Around
Despite the ever growing (pun intended) research, science,  facts, and patient testimonials, Dr. Bledsoe is hard wired and mandated to proclaim cannabis is not medicine and that patients don't really know what's best for them.
We know from Dr. Sanjay Gupta, Dr. Raphael Mechoulam , Dr. Sunil Aggarwal, and countless other physicians and researchers that whole-plant cannabis is much safer and more effective than synthetic marijuana.
We recently even published an article by practicing physician Dr. David Bearman about why Marinol is not medical cannabis. But none of that matters when you are already dead set to be dead set against it. Luckily, there's still plenty of time for Gov. Hutchintson, Dr. Bledsoe, and the rest of the "white coat team" to come around on the issue.
Practicing neurosurgeon and Chief Medical Correspondent for CNN, Dr. Sanjay Gupta famously apologized live on National TV for lying to the American people about cannabis.
"I apologize because I didn't look hard enough, until now," Dr. Sanjay Gupta said. "I didn't look far enough. I didn't review papers from smaller labs in other countries doing some remarkable research, and I was too dismissive of the loud chorus of legitimate patients whose symptoms improved on cannabis. We have been terribly and systematically misled for nearly 70 years in the United States, and I apologize for my own role in that."
Maybe Dr. Bledsoe has time to watch a few videos or read a few studies (not sponsored by NIDA) in the upcoming weeks. Feel free to Tweet them to him and Gov. Hutchinson: 
Dr. Gregory Bledsoe – Twitter: @ghbledsoe
Gov. Asa Hutchinson – Twitter: @AsaHutchinson
You can watch the "white coat press" conference in its entirety below:
* Governor Asa Hutchinson mistakenly alluded that voting is on November 4th. As a correction, this article was published with the correct voting date of November 8th.